July 31, 2017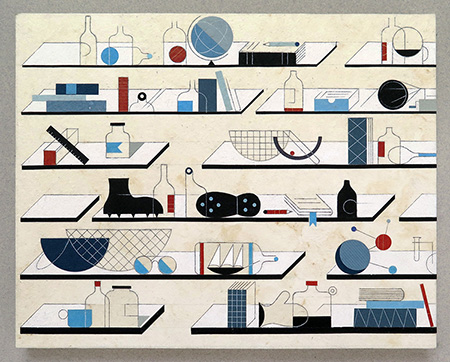 Long View Study No. 29 is inspired by the shelves in Shackleton's Hut at Cape Royds, Antarctica. The hut has changed very little since it was occupied from 1907 to 1909 by the Nimrod Expedition crew. Tins, bottles, newspapers, clothing, and containers with personal belongings still lay about where they were left over a century ago.
The hut and site are maintained by Antarctic Heritage Trust of New Zealand which, from 2004 to 2008, oversaw the structure's restoration to the condition that Shackleton's team left it in. Under the AHT's auspices, the hut was listed in the 2004, 2006, and 2008 World Monuments Watch, providing attention and financial support for the site.
The artwork was created with cut paper, acrylic, and graphite.