November 30, 2008
It's that exciting time of year when the San Francisco Center for the Book's artist-in-residency concludes with the release of a new artist's book edition. This year the Center's Imprint committee, which I co-chair, is pleased to be publishing Ala Ebtekar's The Art of Stepping Through Time, issued in an edition of 30 letterpress-printed copies.
Ala often layers text and image when drawing on his Iranian heritage to create what he describes as "synthetic epics," visual narratives that are a "crossroad where present day events meet history and mythology." His graceful lines merge multiple timelines, interpretations and outcomes in which classical Persian references might co-exist with elements of hip-hop culture.
For his first artist's book project, Ala brought his layering process to the medium through the use of translucent papers. Farsi and English texts read in opposite directions across a 7-panel accordion structure through which his bottom-layer drawings appear. There's a wonderful multi-generational aspect to this: The Farsi text layer is by Ala's great uncle, the renowned Iranian poet and scholar H. E. Sayeh. Ala's mom co-translated text for the English layer, and Ala's images complete the picture in the final layer.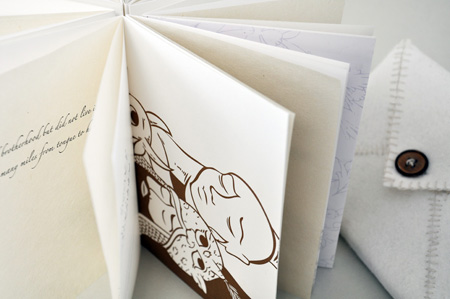 The book displays upright as a closed, continuous star-shaped loop when viewed from above. It features Ala's blind-embossed Persian motif covers and is housed in a felted, hand-stitched wool pouch.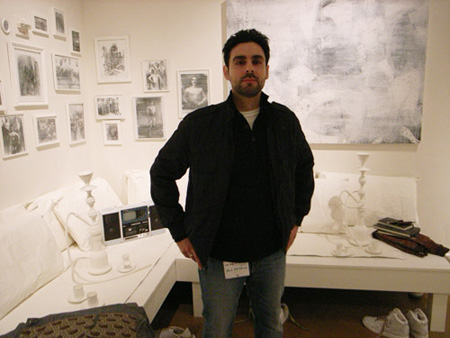 Ala was born in Berkeley in 1978. As a teenager, he worked with Tim Rollins' seminal group Kids of Survival (K.O.S.) on public art installations and exhibitions around the Bay Area. He later studied traditional Persian painting in Tehran prior to completing his BFA at the San Francisco Art Institute in 2001. He earned his MFA from Stanford University in 2006 and was awarded the Stanford University Paris Studio, during which he participated in a seven-month residency at the Cité des Arts. His work has been exhibited at the M. H. De Young Museum and the 2006 California Biennial at the Orange County Museum of Art, among numerous other venues throughout the U.S., Europe, and the Middle East. He was recently featured in the exhibitions One Way or Another: Asian American Art Now, a touring exhibition originating at the Asia Society in New York, and Bay Area Now 5 at the Yerba Buena Center for the Arts in 2008. He is a visiting lecturer at UC Berkeley and Stanford University and is represented by Gallery Paule Anglim in San Francisco.
Quite an illustrious career for a young guy. Yet for all his great talent and wild success, Ala remains a humble, generous artist and a joy to work with. I'm grateful for having had him on board as resident artist and I value our resulting friendship.
Huge thanks is also owed to our hard-working production manager Rhiannon Alpers and her fabulous team of volunteers, without whom none of this would have been possible.
Come celebrate with us at Ala's publication party at the San Francisco Center for the Book on Wednesday December 3rd from 7 to 9 P.M. He'll say a few words about his 2008 residency experience and copies of his beautiful book will be available for purchase. It can also be ordered online, along with the Center's other fine Imprint publications.
The SFCB is at 300 DeHaro Street (entrance on 16th Street) in San Francisco.
415-565-0545 | www.sfcb.org | [email protected]