July 31, 2009
Our team at the Imprint of the San Francisco Center for the Book is excited to be collaborat-ing with artist-in-residence Gail Wight on her artist's book edition to be released in December. Restless Dust will be issued as a limited edition of 50 signed and numbered artist books, each housed in a wooden box containing a multi-media installation. The body type is completely set by hand using metal type for letterpress printing. Images carved in linoleum are also printed on a letterpress while other elements are screen printed.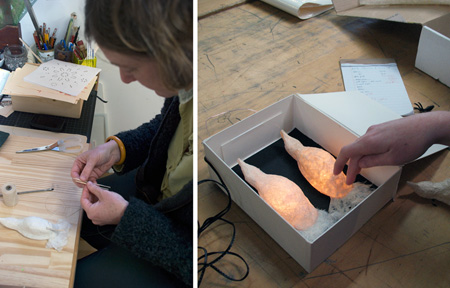 In the photos above, Gail works up prototypes of the various elements. A pair of paper birds lies on velvet at the base of the housing. The upper half of the housing supports a plexi tray on which a leather-bound 'field journal' rests, a book whose removal reveals the birds below and activates their illumination.
Gail's text invites Charles Darwin's ghost to sail to San Francisco and wander with her through the greater Bay Area terrain. The focus of the journey is three part: to celebrate the unique species of the San Francisco Bay Area; to look at the ways in which Darwin's legacy has impacted contemporary Bay Area culture; and to acknowledge the fragile and endangered state of many of our local flora and fauna caused by environmental degradation.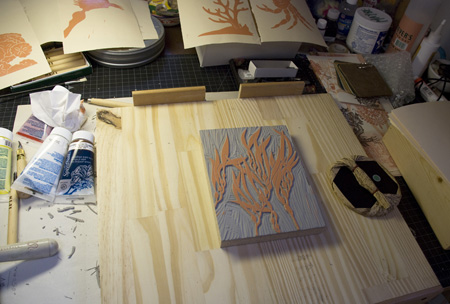 Gail, introduced here in April, is Associate Professor at Stanford University's Department of Art & Art History and Director of Graduate Studies in Studio Art and Experimental Media Arts. We're proud to have her as the fifth artist of our annual artist-in-residence program.
Copies of Restless Dust may be reserved at the pre-publication price of $280 until the evening of the December 4 book launch, after which which they will be available for $350 each. Orders for Gail's book and other SFCB publications may be placed at our online store or by emailing [email protected] You may also call us at 415.565.0545, or visit the Center in person at 300 De Haro Street, San Francisco; entrance on 16th Street. Hours: Monday-Friday, 10 A.M.-5 P.M.