May 18, 2014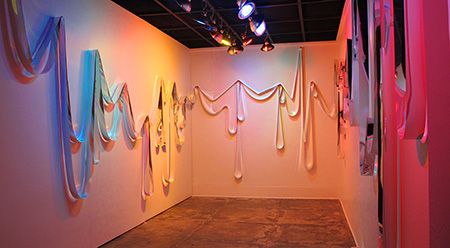 Stanford's MFA Thesis show, titled "Half Tilt Full Lean," is on view till June 15 at the Thomas Welton Stanford Art Gallery. The artists are Galen Jackson, Eleanor Oakes, Ben Peterson, Anja Ulfeldt, and myself. The exhibition is curated by Enrique Chagoya, Professor in the Department of Art & Art History.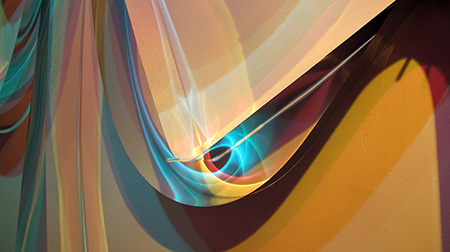 My wall installation, Phase Transition, was created by cutting long, two-inch strips of metallized polyester film, commonly known by the trade name Mylar, that were then draped into loops and hung from clear dowels, giving the viewer the impression of dripping water. The Mylar, with its metallic sheen that sways lightly in the wind of passersby, reflects brilliant shades of green, blue, and red on the wall, facilitated by colored flood lights that shine on the installation from above.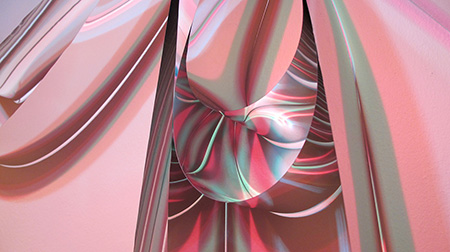 I utilized Mylar to explore light, color, material, and reflectivity in referencing concepts of transition, modulation, and mutation. This piece treats light in a painterly manner, blurring the boundaries between Mylar, wall, and reflection. In doing so, the space from the area in front of the wall extends into a virtual space beyond it, allowing viewers to deconstruct perceived shifts in dimension and perspective.
My installation also addresses shifts across time and states of matter. Its composition is based on a line graph accompanying a recent study which tracks Arctic sea ice extent over the last 1,450 years. The uppermost ribbon of Mylar accurately traces the peaks and valleys of the timeline, below which bands of ooze hang like swollen droplets or misshapen stalactites. The melting process concludes with the Mylar's final and precipitous drop to the floor.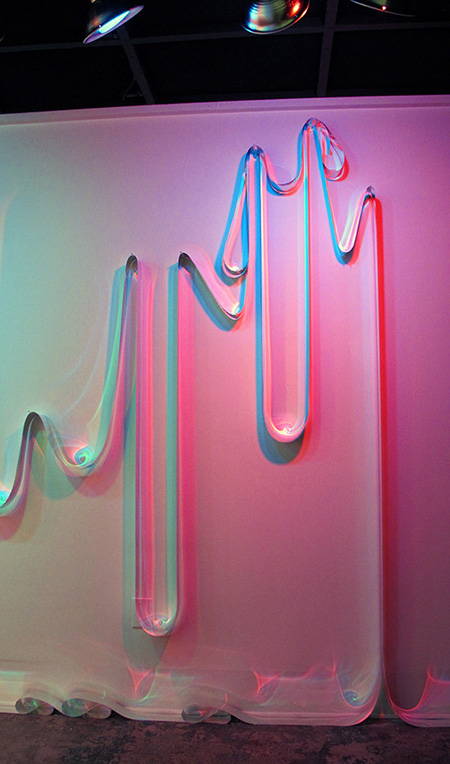 Phase Transition also speaks to translating indexical data into subjective and symbolic imagery. Diagrammatic in origin, the installation's multitudinous 'eyes' and bulbous, viscous tendrils acquire a biotic constitution, emphasized by their movement in response to air currents. Seen as both an organism and the cosmic web to which we are united by multiple bonds, my composition proposes a perpetual state of vulnerability and transformation in which human presence is ever complicit.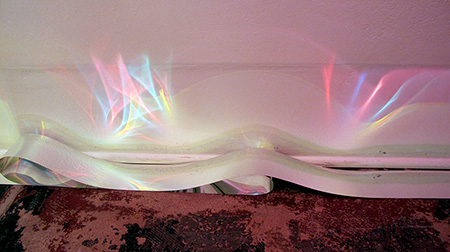 This installation grew out of an earlier iteration I created in the studio back in February. That version can be seen here.
Many thanks to my family, professors, and colleagues for their unflagging support throughout the program and a special shout-out to Stanford Art History doctoral candidates Sydney Skelton Simon and Joseph Larnerd for writing thoughtful essays about my work in the exhibition catalog.
The Thomas Welton Stanford Art Gallery is open Tuesday through Friday, 10 AM–5 PM, and Saturday and Sunday, 1-5 PM. Admission is free and open to the public. The Gallery is located in the Stanford campus, off Palm Drive at 419 Lasuen Mall. Parking is free after 4 PM and all day on weekends.