February 28, 2017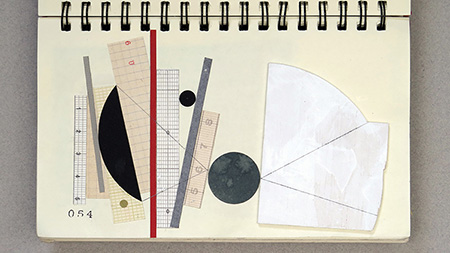 LV Sketchbook page 054 takes the study and measurement of Larsen C, Antarctica's fourth-largest ice shelf, as its subject. Larsen C is under heavy observation as a rapidly advancing crack threatens to create one of the largest ice calving incidents on record. The rift now reaches over 110 miles in length, with some parts up to two miles wide. Once it reaches across the ice shelf — about another 20 miles — the break will create an iceberg the size of Delaware, among the biggest bergs ever recorded.
The separation is expected to occur within weeks or months, affording scientists their first proper look at an event of this magnitude. While most researchers expect the collapse of Larsen C itself to minimally affect global sea levels, the greater concern is whether the glaciers buttressed behind the ice shelf will accelerate towards the ocean. Removing an ice shelf is "like removing the cork out of the bottle," says Adam Booth, a geophysicist at the University of Leeds.
Project MIDAS, a British Antarctic research project, has kept watch since the rift was first spotted in 2010. According to MIDAS scientists, this particular cracking is likely natural with no direct evidence of a link to climate change. General ice shelf decay along the Antarctic Peninsula however is still believed to be linked to Earth's warming.
Most ice behavior information comes from observations from space, such as NASA's Landsat 8 satellite. The imagery from Landsat 8 is held by the Global Land Ice Velocity Extraction (GoLIVE) project, a free data platform cataloging over 500,000 satellite-derived ice flow maps, with many thousands added each month. Imagery from the European Space Agency's Sentinel-2 satellite will be added as well this year, potentially doubling the available quantity of data. The objective, says GoLIVE developer Mark Fahnestock, is a "model to reflect what's happening now so you can anticipate how the ice will change in the future."
My collage is composed of found and recycled material in keeping with the Long View project's spirit of sustainability. Various graph papers signify measurement on the left and a slab of painted bass wood represents the imminent berg on the right.